The latest standard in Engine Oil Performance! Racing Spec Engine Oil
Ester Core Technology
Full & 100% Synthetic
Engine Oil
Volume: 2 Liter & 5L
Starting engine fast
Low oil consumption
No resistant
Produce from France
---------------------------------------------------------------------------------------------------------------------------------------------------------------------------------------
Product Model: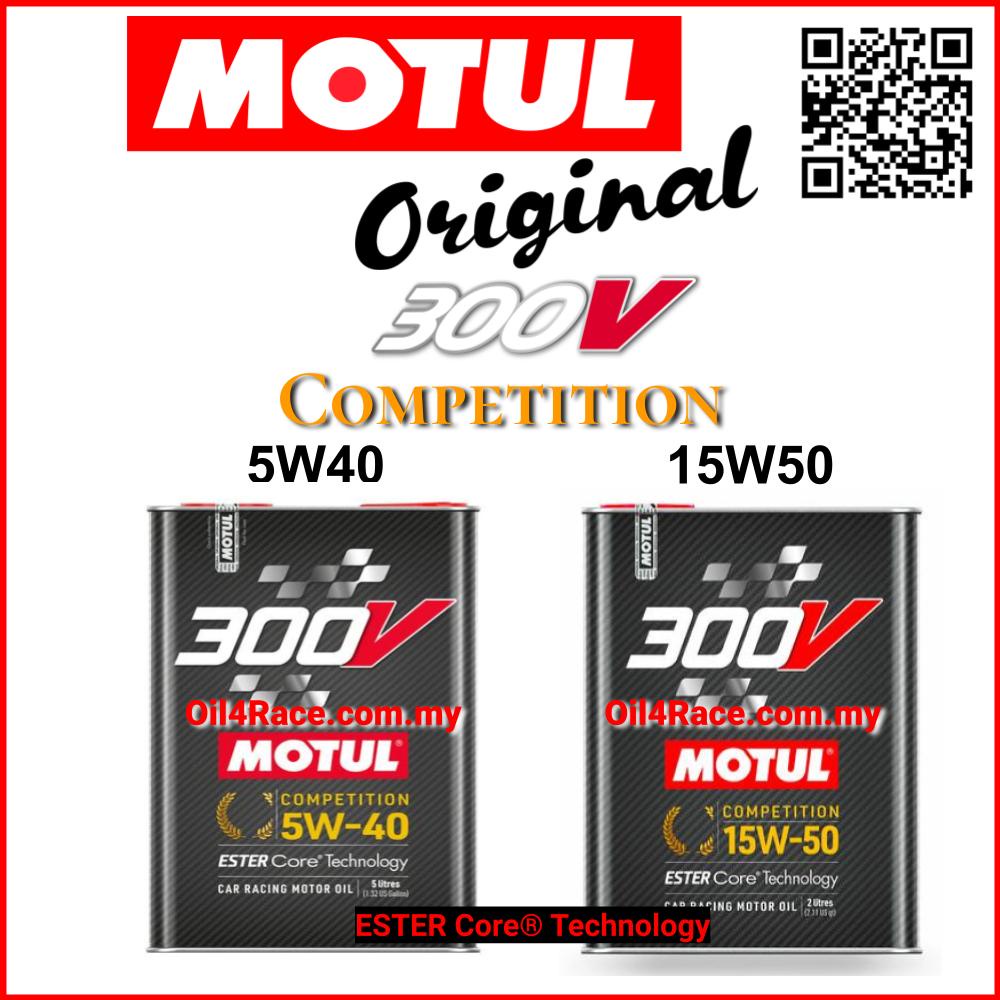 100% Synthetic - 300V COMPETITION Series:
5W40
15W50
300V POWER RACING TECHNICAL DATA SHEET
APPLICATION: RACING - MOTORSPORT LINE
ENGINE TYPE: 4-STROKE
QUALITY: 100% SYNTHETIC
PRODUCT RANGE: CAR
OEM APPROVALS: ABOVE EXISTING STANDARDS
100% Synthetic racing lubricant with Double Ester-Technology for racing cars with atmospheric or turbocharged engines, engines, requiring maximum power output and fastest rev raisings. Low viscosity grade reduces oil hydrodynamic friction, provides maximum power output already at cold temperatures. High HTHS viscosity protects against wear and tear even under tough racing operating conditions.
100% Synthetic – Double Ester Technology
Result of Motul's perpetual innovation, the 300V engine oil has been synonymous with success for 50 years. Introduced at Le Mans 24h in 2021 and acclaimed by the best teams in the world, this new 300V range once again pushes forward the limits of performance:
Better efficiency: the new Motul 300V oil formulation reduces internal friction and guarantees an improvement in power and torque of up to 5%.
Extreme reliability: your engine benefits from a reduced wear and maximum protection without compromising its performance. The oil film has a high shear stability even in extreme conditions and under high temperature and pressure.
Modern compatibility: this new 300V formulation now meets even the most modern engines requirements. It is compatible with particulate filters, catalytic converters, and biofuels such as E85 or biodiesel, and protects against knocking.
Sustainable development: Motul 300V oil is not made from hydrocarbons or petroleum. The new 300V oil formulation is fully organic, based on renewable non-fossil materials, allowing Motul to reduce its carbon footprint by 25% during the manufacturing process.
New viscosity grades: the new 300V formulation is now available in 12 grades, from 0W8 to 20W60, and 3 packaging: 2 liter, 5 liter and 20 liter can.
TYPE OF USE
Racing cars with naturally aspirated or turbocharged engines, race or qualifying engines, requiring
maximum power output and fastest rev raisings : Qualifying sessions, drag racing, race on tracks,
Nascar, single brand races, uphill races, rallyes…
Engine designed to run low viscosity lubricants and to minimize fuel dilution in the oil.
Other applications : Gasoline or Diesel engines, turbocharged, direct injection and catalytic converters.
RECOMMENDATIONS
Oil change : according to your own use.
Can be mixed with synthetic or mineral lubricants.
#MOTUL #300V #5W40 #15W50 #RACING #Synthetic #V300 #Competition